The American Legion Auxilary Chili Post 1830 meets at the post home on the second Tues of each month! Meetings start at 7:00 pm, and generally last 1 hour. If you are interested in joining the Auxilary at post 1830, then please attend one of these meetings to join or transfer in.

Meetings are on the following dates:
January 10th, 2017 @ 7:00 pm.
February 14th, 2017 @ 7:00 pm.
March 14th, 2017 @ 7:00 pm.
April 9th, 2017 @ 9:00 am breakfast, 10:30 Meeting.
May 9th, 2017 @ 7:00 pm.
June 13th, 2017@ 7:00 pm.
No meeting in July and August
September 12th, 2017 @ 7:00 pm.
Octctober 10th, 2017 @ 7:00 pm.
November 5th, 2017 @ 9:00 am breakfast, Meeting 10:30.
December 12th, 2016 @ 7:00 pm.

*** Bylaws and Standing Rules***
Click here to View Bylaws and Rules
Committee Chairs:
Americanism: Sharon Arthur
Aux. Emg. Fund: Sharon Beeke
Cancer: Julianna Frisch
Chaplain Shiela Giumento
Children & Youth: Melody Wasko
Community Service: Julianna Frisch
Const. & ByLaws: Carolyn Emerson
Coupons: Donna Ramer
Education: Sharon Brrke
Finance: Nicole Booth
Empire Girls State: Sharon Arthur & Kathy Veltz
Historian: Maureen Warmerdam
Juniors: Laurie Forest
Leadership: Dolores Carpenter
Legislative: Kathy Veltz
Membership: Jane Donaldson
National Security: Carolyn Emerson
Past Pres. Party: Carolyn Emerson
Poppy Chairman: Jane Donaldson
Public Relations: Melody Wasko
SunShine: Barbara Alexander
VA&R/Field Service: Sharon Arthur
Wounded Warriors: Sharon Beeke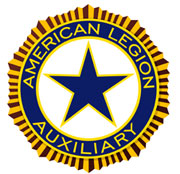 Please click here to go to Dept. of N.Y.'s website.
BECOMING A MEMBER:

* A woman who is eligible for membership in the American Legion.

* The Mother, Wife, Daughter, Sister, Granddaughter, Great grand-daughter, or Grandmother of members (both male & female) of the American Legion, & deceased veteran who served in the United States Armed Forces during the listed war periods. (See application form or link to the American Legion site).

* Step relatives are also eligible.

* Are you under the age of 18??? You can also join as a Junior member. See what is available when you go to: http:/www.legion-aux.org/membership/docs/bec_jr.html/.